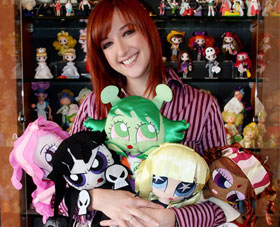 Lauren Faust is a twelve-year veteran of the animation industry, achieving great success in her field as an artist, animator, writer and producer. She is a lifelong, avid toy collector with a particular interest in the beloved toys of her childhood, including My Little Pony and Strawberry Shortcake. Her greatest goal as an artist is to offer up to other girls the same kind of joy and inspiration she experienced as a child, with images of girls and women as positive, active, individualistic, fun, and even a little edgy.
Ad blocker interference detected!
Wikia is a free-to-use site that makes money from advertising. We have a modified experience for viewers using ad blockers

Wikia is not accessible if you've made further modifications. Remove the custom ad blocker rule(s) and the page will load as expected.